Under the current situation of the COVID-19 pandemy, things are happening that nobody would have even thought that it is possible….. From 16-18th of June 2020 the first virtual project meeting has taken place in our project NOBEL. In different break out groups and panell discussions it was possible to discuss the state of progress in the project and update each other on the achievements in the last months since our project meeting in Lisbon.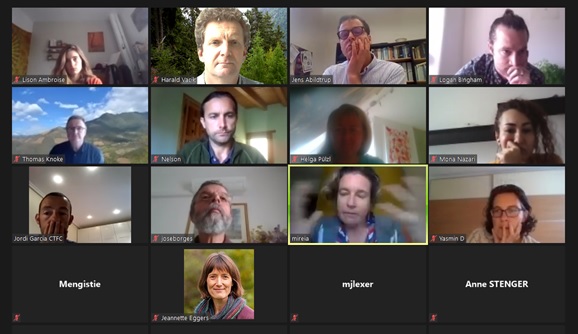 A short overview was given by the WP-Leaders of the progress of work related to the tasks in
WP 1 – Spatial Information and auctioning platform
Data required in relation to mapping of FES, input for ecosystem models, list of indicators
Data that can be provided from pilot demonstrations
Common standards provided for the decentralized storage of the data
Role of geolocated indicators for FES including data from COPERNICUS and national data acquisition programs
required updates for the web-based auctioning platform ECOCEL for the implementation of business models where identified
WP 2 – Stakeholder interaction and dissemination
list of stakeholder panels in the pilot demonstrations
Facilitate, harmonize and utilize the outcomes of the stakeholder interactions in pilots
forest owner attitudes towards ES provisioning through survey by INRAE
Discussing results from French forest owner survey
Design choice experiments for forest owners
Facilitate survey on forest management options for provision of FES
WP 3 – Methods and models to assess forest ecosystem services
Updates needed for the framework of indicators for spatial prediction and optimization of FES
needs to improve forest ecosystem models for predicting outcomes of forest management for the provision of FES
development of optimisation approaches and enhance optimization tools to generate forest plans and to quantify predicted outcomes for FES in the pilot demonstrations
methods that will be applied to assess the economic efficiency of different business models.
develop methods and mechanisms for a web-based auctioning platform for FES
upscaling of management practices to levels of FES provisioning at the national level considering landowner types, management regimes and EFTs
WP 4 – Analysis of policy framework governance settings
Discussion of the guidelines for the analysis of the governance settings of previously implemented PES schemes
identify suitable business models for a given socio-economic, ecological and policy context
Identification of possible partner countries / pilots for the analysis
WP 5 – Demonstrating business models for providing forest ecosystem services
data needs from pilot demonstrations and participating countries (ecological site information, forest stand data, existing policies, rules , regulations, innovative forest management plans, …) in relation to the guideline were discussed
Discussion and design of auctions were done
options to quantify acceptable trade-offs between FES
Requirements for alternative PES schemes in pilots
outcomes of forest management for the provision of FES
application of optimization techniques to evaluate forest management plans
Although there are many limits in sharing results and ideas by videoconference, the virtual project meeting has been seen as a success by all participants! The only drawback was, that no wine tasking has been possible in the proposed venue of the physical meeting in Barcelona, Spain.